Planning and Running Digital Transformation Programs
November 21, 2022
@
8:00 pm
–
9:00 pm


Webinar Details

Name: Mohammad Shalan. (Digital Transformation Green Belt, CXO Thrive, PMP, PMI-RMP, CISA, CGEIT, CRISC, RMA, ITIL-F & CSX-F)
Position: VP Digital Transformation at PMI-Kingdom of Saudi Arabia.
Email: masshalan@gmail.com
Speakers' Brief:
Mohammad Shalan is the editor of a book titled "Innovative and Agile Contracting for Digital Transformation & Industry 4.0" that was published by IGI Global in 2021.
A passionate advocate of Project Economy, Digital Transformation, Industry 4.0 Governance, Innovative Contracts and Smart Resilient Cities including environmental ecosystems. He is an author, guest speaker and researcher with published books, chapters, articles, and presentations.He is a well certified professional, multidiscipline motivated business-technology interpreter. Holding 9 well recognized certificates and attended training classes in 12 countries across the 4 continents.
During his professional journey, Mr. Shalan have worked out major operational assignments, portfolios, programs, and projects that are spanning in more than 50 countries with distributed activities, multiple vendors, numerous dependencies, heavy correspondences, and multi-discipline contractors, some assignments worth more than 50 million USD.
Currently Eng. Shalan is volunteering as VP Digital Transformation at PMI-Kingdom of Saudi Arabia.



Description:
This webinar is intended to show case how organization need to engage in planning and executing a right digital transformation journey. Starting from setting up the digital transformation mission and strategy, then moving to initiatives creation, planning, execution and value realization.
The Role of Transformation Management Office (TMO) will be also discussed in connecting the dots between digital transformation initiatives, programs and projects in addition to the surrounding ecosystem that is required to support the journey.



Objectives:
– Understanding the Digital Transformation Journeys and Schools.
– Explaining the role of TMO (Transformation Management Office) and its correlations.
– Amplifying the need of solid ecosystem to deliver and optimize the digital transformation value.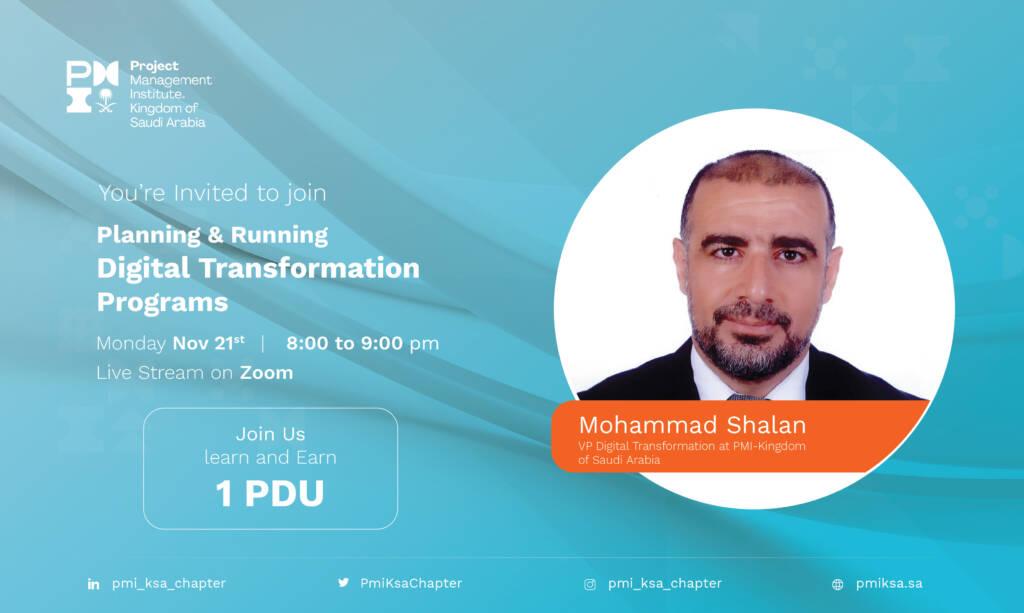 Webinar Presentation



Webinar Recording