Digital Transformation: The Future of Saudi Construction Projects is Now!
December 26, 2022
@
8:00 am
–
5:00 pm


Webinar Details

Name: Eyad Buhulaiga
Position: Strategic Executive Director
Brief:
Dr. Eyad is a digital transformation expert with 20+ years of international experience in the Energy, Oil & Gas industry. He has earned his B.Sc. in Information and Computer Sciences from King Fahd University of Petroleum and Minerals, M.Sc. in information Technology Management from Nova Southeastern University and a Ph.D., in Engineering Management from the University of Johannesburg.
In 2021, Dr. Eyad was granted a patent (US 1189, 088 82) from the U.S. Patent office with the invention titled "Integrated Solution for Generating Environmental Emergency Response, Preparedness.


Description:
The presentation highlights the impact of digital transformation on the construction projects.

Objectives:
Brief overview of Vision2030 and Giga Projects.
Explain Project Economy.
Differentiate between Agile and traditional project execution methods.
Discuss the Innovation in Project Management.
Explain the Digital Twin and how it could support in the digital transformation journey in Construction industry.
AI application in project management.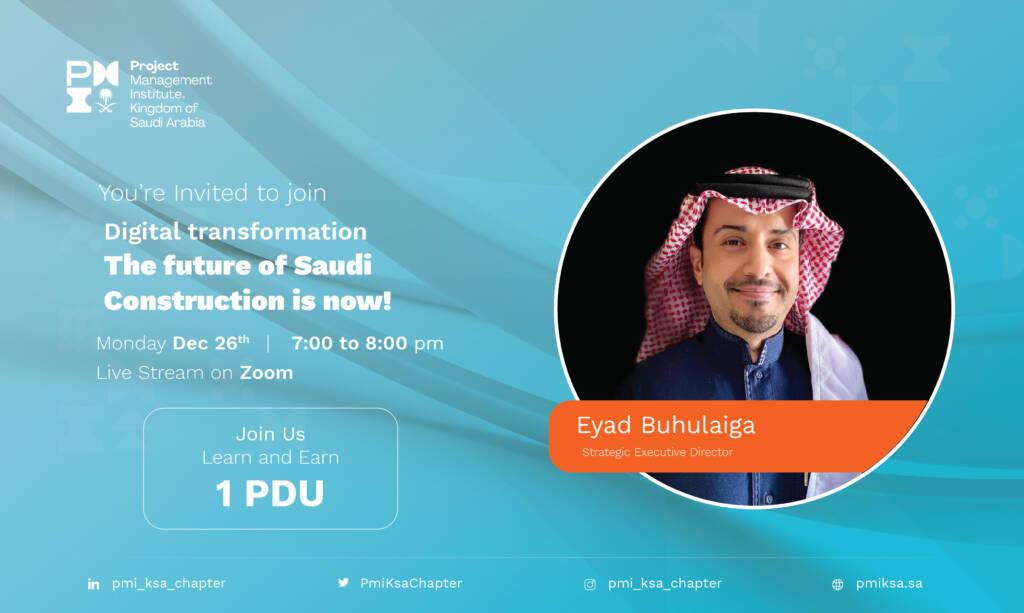 The webinar's presentation slides: